Robert Conrad
by TMAN Freelance Writer Ben Smith
---
Actor Robert Conrad is one of many action stars that have a love of martial arts.
Actor Robert Conrad is one of many action stars that have a love of martial arts. When Black Belt magazine ran an article on the best martial arts choreography in a TV show a few years ago, the "Wild, Wild West" was picked as the Number 1 action show! We had a chance to talk with the star about his love of the martial arts among other things.
BS-How old were you when you got the part of Jim West?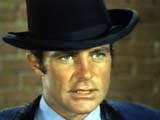 RC-I was 29 and I tested for the part. A guy named Skip Ward who ended up producing Dukes of Hazard was the 20th to test and I was the 19th. Iíve always been cocky when I try to sell myself for a part so I said to Skip "Donít even test, I got the part". They called me into the dressing room and I ended up with the part. I replaced a wonderful actor named Rory Calhoun who originally had the role and tested with a friend, however, since he didnít wear make up for the test, they did not use him for the part. The only person I was concerned about beating me for the part was John Derek because I loved his work and he, of course went on the marry Bo.
BS-What an off the wall show that was in the 60s and today.
RC-It was. Iím getting these young kids coming up to me and saying they love the show. Some of them donít even realize that it was done 30 years ago.
BS-You began martial arts training early on.
RC-My martial arts began in 1957 and the "Wild, Wild West" went on the air in 1965. I did martial arts in 1960 with a guy named Bob Heron. I watched Toshiro Mifuneís moves (famed Japanese Samurai Actor) in the "Seven Samurai" (movie) and was amazed at his agility. I had to literally search to find an instructor back then, Ed Parker was coming from Hawaii and was not well know back then. No one knew Chuck Norris yet or Bill Wallace, etc.
The martial arts started to filter in at that time and I started by watching Toshiro Mifune. If someone asked me whom I feel is the best action actor of all time I would have to say Toshiro Mifune.
BS-You did your own stunts back thenÖdo you ever complain about actors that are in action movies not doing their own stunts?
RC-No. I am not judgmental. I donít like to put down people and this machismo that I have was given to me by my mother, who was concerned about bringing up a boy without a father in the home. She worked on my confidence by putting me in the ring when I was six! My mother really did help me gain confidence in myself.
BS-What style did you train in?
RC-The name of the first art I studied was "Kajukenbo", then I went into "Shotokan" and now we know there are so many different Japanese arts that evolved from "Shotokan". My original instructor was John Leone. When we did Wild, Wild West, I incorporated the styles I was introduced to as well as Flamenco dancing into a choreographed fluidity for the show and that was back in 1965.
BS-It seems dancing is very good in learning and developing balance. Bruce Lee was the Cha-Cha champion in Hong Kong when he was a teen, which proved to be as beneficial as his martial arts expertise when he got into movies.
You were doing these sometimes comical fight scenes way before anyone else.
RC-I love Jackie ChanÖI think he has what it takes to be a huge success in America, he already is with "Rush Hour". On the "Wild, Wild West" set, we did improvised fights in about 15 minutes. We sat around and said "What are we gonna do for a fight todayÖ? guys". When things went wrong, we knew each other so well that we just improvised.
BS-What did you think of Bruce Lee?
RC-His films were great as well and I liked Bruce Lee a lot because he always had that macho attitude no matter where he was. His ability was second to none.
BS-Do you still train?
RC-I sure do. Things have changed a bit though, due to some injuries from some stunts, I need to take it easy now.
BS-We saw you in "Jingle All the Way" with "Arnold Shwartzeneggar", are there more movies on the way with Robert Conrad?
RC-I have a movie coming out in January called "New Jersey Turnpike", itís a Universal movie with "Kelsey Grammer". Itís about a basketball team in the 70s and I play a coach.
There was a martial arts movie I was going to do a few years ago that was completely funded called "Return of the Master" which was going to be the "to die for" martial arts movie. I played myself in the later years. I was interested in it, but it never happened. I would have done all my own stunts again because you have to compete with bigger and better, but it wasnít meant to be.
BS-I would have loved to see that. However, you ARE still trainingÖright?
RC-Well, as I said, Iím still training but Iím more diversified now as I am concentrating more on raising my family and skiing. One of my daughters is into martial arts and another is into Junior Olympic skiing.
BS-Youíre into skiing, as well..?
RC-Yes, as a matter of fact, I won the Bud Ice Senior event this year.
BS-Thank you for the opportunity to speak with you concerning your love of the martial arts.
RC-Thank you Ben, and best of luck to the Martial Arts Action Network.

---
Robert Conrad will always be a man of enormous physical ability and diversified talents, in which training within the Martial Arts has only given him more confidence and much more skill, making him a true pioneer of Martial Arts Action Movies!
Actor filmography
(1990s) (1980s) (1970s) (1960s) (1950s)
1.Wild, Wild West, The (1999)
2.New Jersey Turnpikes (1999)
3.Jingle All the Way (1996) .... Officer Hummell
4."High Sierra Search and Rescue" (1995) TV Series .... Tooter Campbell
5.Search and Rescue (1994) (TV) .... Tooter
6.Two Fathers: Justice for the Innocent (1994) (TV) .... Stackhouse
7.Sworn to Vengeance (1993) (TV) .... Sergeant Stewart
8.Samurai Cowboy (1993) (TV) .... Gabe
9.Mario and the Mob (1992) (TV) .... Mario Dante
10.Anything to Survive (1990) (TV) .... Eddie Barton
11."Jesse Hawkes" (1989) TV Series .... Jesse Hawkes
12.Glory Days (1988) (TV)
13.Police Story: Gladiator School (1988) (TV)
14."High Mountain Rangers" (1988) TV Series .... Jesse Hawkes
15.Murder One (1988) (TV) (uncredited)
16.High Mountain Rangers (1987) (TV) .... Jesse Hawkes
17.Assassin (1986) (TV) .... Henry Stanton
18.Charley Hannah (1986) (TV) .... Captain Charley Hannah
19.Fifth Missile, The (1986) (TV) .... Mark Van Meer
20.One Police Plaza (1986) (TV) .... Lt. Daniel B. Malone
21.Moving Violations (1985) (uncredited) .... Chief
22.Two Fathers' Justice (1985) (TV) .... Bill Stackhouse
23.Confessions of a Married Man (1984) (TV)
24.Hard Knox (1984) (TV) .... Joe Knox
25.Will: The Autobiography of G. Gordon Liddy (1982) (TV) .... G. Gordon Liddy
26.Wrong Is Right (1982) .... General Wombat
... aka Man with the Deadly Lens, The (1982)
27.Coach of the Year (1980) (TV) .... Jim Brandon
28.More Wild Wild West (1980) (TV) .... James West
29."Man Called Sloane, A" (1979) TV Series .... Thomas Remington Sloane III
30."Duke, The" (1979) TV Series .... Oscar "Duke" Ramsey
31.Breaking Up Is Hard to Do (1979) (TV)
32.Lady in Red, The (1979) .... John Dillinger ... aka Guns, Sin and Bathtub Gin (1979)
33.Wild Wild West Revisited, The (1979) (TV) .... James West
34."Centennial" (1978) (mini) TV Series .... Pasquinel
35."Baa Baa Black Sheep" (1976) TV Series .... Major Greg 'Pappy' Boyington
... aka "Black Sheep Squadron" (1977) (new title)
36.Baa Baa, Black Sheep (1976) (TV) .... Major Greg 'Pappy' Boyington
37.Smash-Up on Interstate 5 (1976) (TV)
38.Columbo: An Exercise in Fatality (1975) (TV) .... Milo Janus
39.Last Day, The (1975) (TV) .... Bob Dalton
40.Live a Little, Steal a Lot (1975) .... Allan Kuhn
... aka Murph the Surf (1975)
... aka You Can't Steal Love (1975)
41."Assignment Vienna" (1972) TV Series .... Jake Webster
42.Adventures of Nick Carter (1972) (TV) .... Nick Carter
43."D.A., The" (1971) TV Series .... Deputy D.A. Paul Ryan
44.Five Desperate Women (1971) (TV) .... Wylie
45.Weekend of Terror (1970) (TV) .... Eddie
46.D.A.: Conspiracy to Kill (1970) (TV) .... Paul Ryan
... aka Conspiracy to Kill (1970) (TV)
47.D.A.: Murder One (1969) (TV) .... Paul Ryan
... aka Murder One (1969) (TV)
48.Bandits, The (1967)
... aka Bandidos, Los (1967)
49.Crossfire (1967)
... aka Bandit, The (1967)
50."Wild, Wild West, The" (1965) TV Series .... Jim West
... aka "Wild West, The" (1965) (USA: working title)
51.Young Dillinger (1965)
52.Nueva Cenicienta, La (1964)
53.Palm Springs Weekend (1963) .... Eric Dean
54."Hawaiian Eye" (1959) TV Series .... Tom Lopaka
... aka "Diamond Head" (1959) (USA: working title)
55.Thundering Jets (1958) .... Lt. 'Tiger Bob' Kelly
56.Commies Are Coming, the Commies Are Coming, The (1957)
... aka Red Nightmare (1957)


---

Ben Smith has been involved in martial arts (both hard and soft styles) for over twenty years and can be reached at
kgbfm@compuserve.com