Martial Arts Black Book

THE BLACK BOOK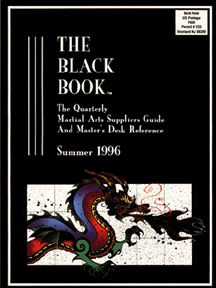 If you're looking for Martial Arts Schools, Associations, Tournaments, Seminars, Camps, or where to buy supplies, books, videos, uniforms, gear, etc,
THE VERY FIRST PLACE
you should look is
THE BLACK BOOK
The Quarterly Martial Arts Suppliers Guide And Master's Desk Reference
One- Year Subscription Now Available!
Four lssues For Only $39.80 (Over 50% off cover price!)
To Order Your Subscription Call (609) 931-4160
(Visa /Mastercard)


or Send Check or Money Order to: The Black Book Div. of Marketing Tools, Inc. 204 Harding Avenue, Bellmawr, NJ 08031 (Make checks payable to The Black Book)



...Back to The Martial Arts Network Home Page

This page maintained by Ron Valli.